12 Days, Mediterranean Impressions
on Crystal Serenity
12 Days, Mediterranean Impressions
From the Uffizi Gallery and Cinque Terre to the Prunelli Gorge in Corsica and the lavender fields of Provence, here is a study in art, architecture and nature highlighted with overnight stays in Barcelona and Monte Carlo.

Since the beginning, Crystal has been the standard-bearer for excellence in luxury travel, remaining the undisputed choice among the savviest world travelers. Today, we are redefining it altogether, expanding the possibilities for our guests with choices, experiences and luxuries unmatched in the industry. By Ocean, River, Yacht, Expedition and Air, each Crystal Experience is designed to showcase the world and its wonders in the most remarkable ways. Join us as new adventures unfold...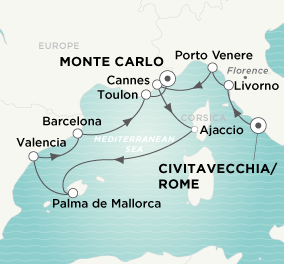 | Day | Destination | Arrive | Depart |
| --- | --- | --- | --- |
| Tue | Rome/Civitavecchia, IT | | 06:00 PM |
| Wed | Florence/Livorno, IT | 07:00 AM | 07:00 PM |
| Thu | Portovenere, IT | 08:00 AM | 06:00 PM |
| Fri | Cannes, FR | 08:00 AM | 10:00 PM |
| Sat | Ajaccio, FR | 08:00 AM | 06:00 PM |
| Sun | Cruising The Mediterranean Sea | | |
| Mon | Palma de Mallorca, ES | 08:00 AM | 06:00 PM |
| Tue | Valencia, ES | 08:00 AM | 06:00 PM |
| Wed | Barcelona, ES | 08:00 AM | |
| Thu | Barcelona, ES | | 06:00 PM |
| Fri | Toulon, FR | 08:00 AM | 06:00 PM |
| Sat | Monte Carlo, MC | 08:00 AM | |
| Sun | Monte Carlo, MC | | |