15-NIGHT BALTIC HIGHLIGHTS VOYAGE
on Azamara Pursuit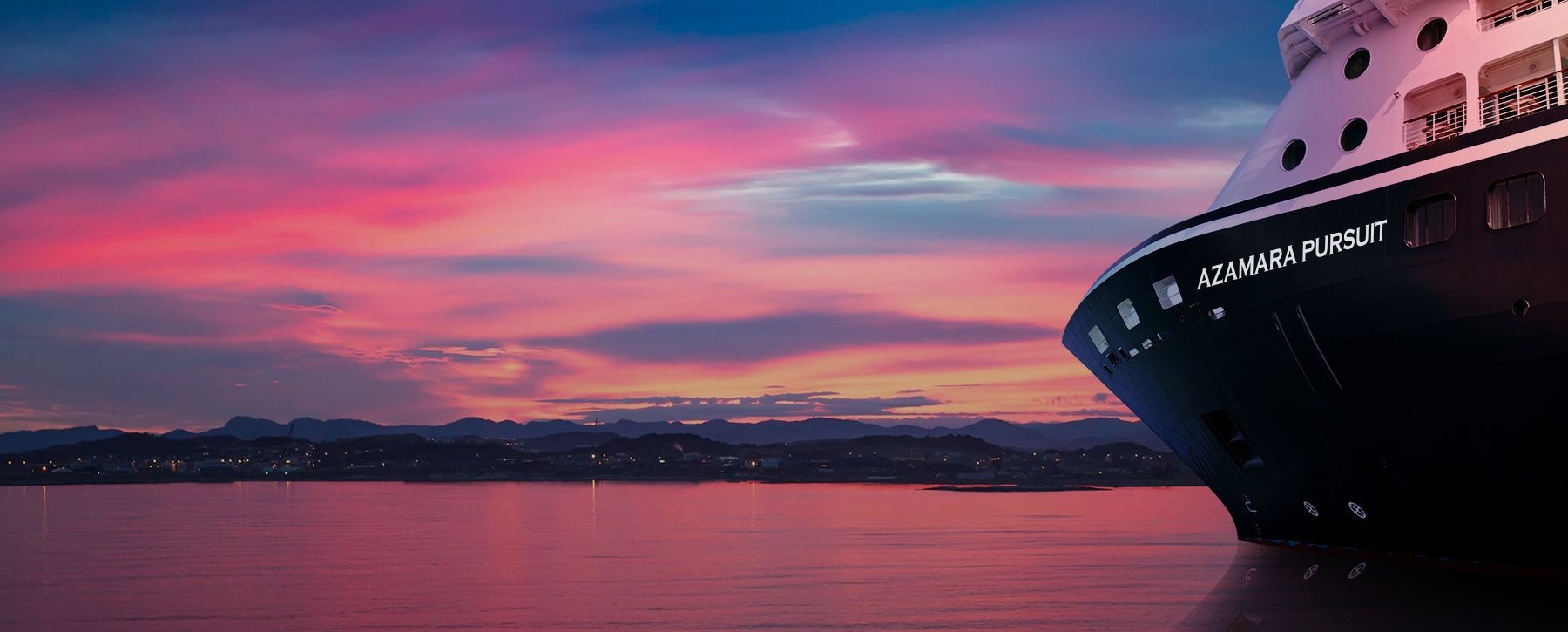 On this Baltic golf cruise, enjoy three days in St. Petersburg, overnight stays in Amsterdam, Stockholm, and Gdansk-plus some of the best golf in Northern Europe.
We've partnered with PerryGolf™-one of the game's leading providers of international golf vacations-to offer this optional golf package to some of the Baltic's most exciting courses: Amsterdam's The International, WINSTONlinks in Germany, Stockholm's Bro Hof Slott, Estonian Golf & Country Club in Estonia, and St.
...
About Azamara Club Cruises
STAY LONGER. EXPERIENCE MORE.
"Stay longer. Experience more." It's the philosophy behind every Azamara Club CruisesÒ voyage. It's what brings you to iconic destinations like Monte Carlo
...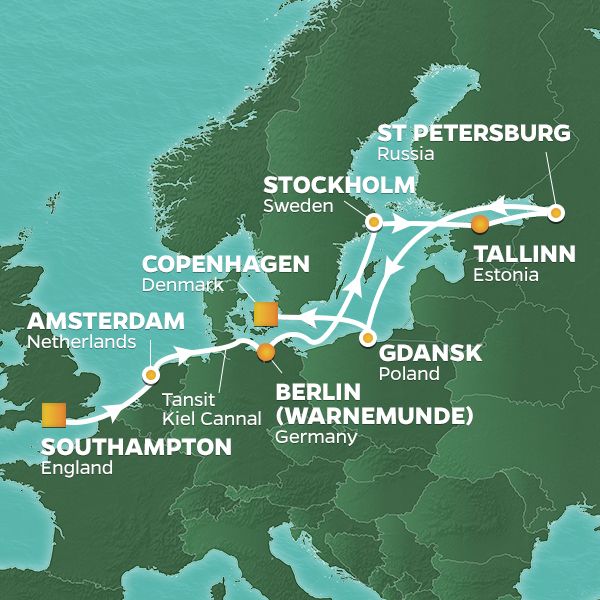 | Day | Port | Arrive | Depart |
| --- | --- | --- | --- |
| 1 | Southampton, England | | 5:00 PM |
| 1 | Southampton, England | | 5:00 PM |
| 2 | Amsterdam, Netherlands | 5:00 PM | |
| 2 | Amsterdam, Netherlands | 5:00 PM | |
| 3 | Amsterdam, Netherlands | | 5:00 PM |
| 3 | Amsterdam, Netherlands | | 5:00 PM |
| 4 | Kiel Canal, Germany | 11:00 AM | 9:00 PM |
| 4 | Kiel Canal, Germany | 11:00 AM | 9:00 PM |
| 5 | Berlin (Warnemunde), Germany | 8:00 AM | 9:00 PM |
| 5 | Berlin (Warnemunde), Germany | 8:00 AM | 9:00 PM |
| 6 | At Sea | | |
| 6 | At Sea | | |
| 7 | Stockholm, Sweden | 8:00 AM | |
| 7 | Stockholm, Sweden | 8:00 AM | |
| 8 | Stockholm, Sweden | | 1:00 PM |
| 8 | Stockholm, Sweden | | 1:00 PM |
| 9 | Tallinn, Estonia | 8:00 AM | 5:00 PM |
| 9 | Tallinn, Estonia | 8:00 AM | 5:00 PM |
| 10 | St. Petersburg, Russia | 8:00 AM | |
| 10 | St. Petersburg, Russia | 8:00 AM | |
| 11 | St. Petersburg, Russia | | |
| 11 | St. Petersburg, Russia | | |
| 12 | St. Petersburg, Russia | | 6:00 PM |
| 12 | St. Petersburg, Russia | | 6:00 PM |
| 13 | At Sea | | |
| 13 | At Sea | | |
| 14 | Gdansk, Poland | 8:00 AM | |
| 14 | Gdansk, Poland | 8:00 AM | |
| 15 | Gdansk, Poland | | 12:00 PM |
| 15 | Gdansk, Poland | | 12:00 PM |
| 16 | Copenhagen, Denmark | 7:00 AM | |
| 16 | Copenhagen, Denmark | 7:00 AM | |